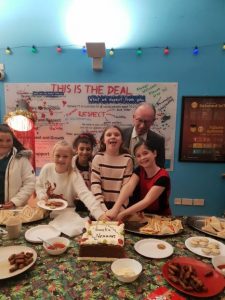 After 8 years of wonderful service, Nessan Vaughan steps down from the Board of Sphere 17 RYS at the end of this year.
At a recent event in Sphere 17 Regional Youth Facility, Mick Ferron, Sphere 17 Regional Youth Service Manager, paid tribute to the immense contribution Nessan has made to the organisation over that time:
Nessan Vaughan has been serving Sphere 17, as Chairperson of the organisation, since 2010. He is a man of deeply help social justice values and
he very much lives these in his remarkable public service contribution through a vast array of voluntary work across the city.
My experience of Nessan is that he has consistently shown all the characteristics, attributes and values we hope for in our leaders: vision, integrity, commitment, determination, humility, empathy and wisdom.
I dare say that in his passion for Governance, only his beloved Dubs come close. Nessan exemplifies what it means to make an extraordinary contribution as a Board member while seeking no acknowledgement in return. The work is the reward, he'll modestly insist … that and the occasional figroll.
We have been exceptionally fortunate to have had such a governance champion join our Board, and the terrific progress we have made over the years, not least in reaching full compliance with the voluntary code of governance, has been as a direct result of Nessan's informed effort, drive and the oceans of tea we fueled him with.
The role of chairperson is varied one. Nessan has been a facilitator, an advocate, a diplomat, a critical friend, and a counsellor as required, and he
has been more than a steady hand on the tiller of Sphere 17 over the past 8 years when we've encountered some choppy water.
His decision to call time on his role on the Board was of course met with some initial resistance, but in truth it was only in keeping with the best practice he espouses.
Finally, if perhaps one of the simplest measures of achievement is leaving something in a better place than it was when you found it, then there is little doubt of Nessan's tremendous achievement with the organisation in that regard.
I would like to personally add that as a direct result of Nessan's immense support to me, his role modelling and his mentorship, I am similarly in no doubt that he is also leaving behind a better Manager than he found!
Nessan was presented with an wonderful art piece created by young people who attend the Bonnybrook Youth Centre with the support of  their youth worker Niall Coughlan and the team.
All involved in Sphere 17 wish you all the very best Nessan, and are extremely grateful for all your amazing work and support. There'll always be a welcome and a cuppa here in Sphere 17 for you!